Cable Cameras
These components are parts for the communication backbone for a aerial cable-camera system used to broadcast professional sports.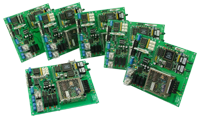 This system used bi-directional fiber optic links to move data and communications from a command computer to four 12hp servo-driven winches dispersed around a professional sports stadium.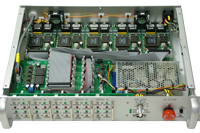 In this application, safety is of prime concern, so each link is composed of two bi-directional fibers which operate as a redundant pair. Each fiber has it's own, independent, error checking, and each module constantly monitors both lines and automatically picks the best available link, auto switching automatically in case of failure.
Each redundant link carries 5 high speed (10Mbaud) and 5 low speed (2.5Mbaud) signals to allow for full remote control of each winch, including 2Mhz quadrature uplink/downlink, full CanBus network, RS232 serial for external status monitoring, and discrete several safety and interlock signals.