Kuper Still Camera Trigger Box
"I want one."
-- John Ashlee, Director of Photography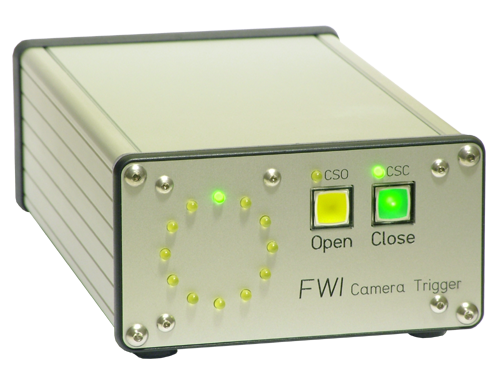 Finally, a practical way to control a still camera from a motion control system!
This box allows you to interface just about any still camera, SLR or industrial, to a Kuper, and use all the various motion control shooting modes, including continuous motion passes, go-motion animation, exposure ramping and foreground/background work with different exposures.
Additional outputs allow you to trigger secondary equipment like framestores or video capture systems.
Features:
Allows Kuper software to easily control digital cameras
Output signals track the Kuper camera output channel, just like a film camera, allowing all the "special" Kuper exposure modes, including intervalometer and synthetic shutter
No unusual Kuper setup is necessary, once the interface box is programmed, it operates automatically, tracking the "camera" output.
Generates three separate, finely adjustable, output signals
For industrial cameras, the signals can control sensor reset, shutter, and frame grab
For consumer cameras, the signals can control "two-step" shutter releases
All signal timing is completely adjustable with 1 degree of resolution
On-board high speed serial port
Transmits a continuous stream of status information for "smart" applications
Supports easy programming and setup via a standard PC terminal program like Windows Hyperterminal
Outputs signals are totally isolated from the Kuper inputs
Intuitive, easy to understand controls and displays
Equipped with a universal 100-240V power supply
Please note: Most users will have no problem connecting this box to their still cameras. For typical applications, a remote release cable appropriate for the camera is modified to connect to the box, and the camera is triggered by a relay closure.
For applications where the camera is mounted on a large motion control rig with high voltage motors, or similar situations where there is a large amount of electrical noise in the area, enough noise may be coupled into a long release cable to introduce triggering problems. For situations like this, we are happy to help you with an opto-isolated release.
Prices vary, since the cables are different for each camera.